What Katie Did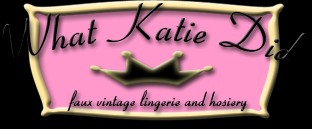 What Katie Did is a company born from a passion for vintage glamour. We recently celebrated ten years in business, from humble beginnings as a purveyor of then hard-to-find seamed stockings, to designing and manufacturing our own vintage style lingerie collections, which are stocked in boutiques across the world. We create and produce beautifully cut, high-quality undergarments, corsetry and hosiery inspired by the 1940s and 1950s; using genuine vintage patterns adapted only slightly for modern figures, authentic fabrics and even old-fashioned production methods wherever possible.
Our customers are unfailingly fabulous women (and men!) who appreciate the art of a circle-stitched cup, a wasp-waist, a flash of fully-fashioned seam... and who help us in our goal to add a little bit more vintage glamour to the world, every day. The best part is, as well as being luxurious, our lingerie is affordable enough to be worn every day, thanks to the dedication and skill of our manufacturers.
Our passion for vintage extends to all parts of our business. From our close-knit team, careful design, to high standards of production and finishing, to good, old-fashioned customer service. We don`t use fashion or standard sizing models to fit our lingerie, instead we try it on real women who come into our boutique. When you buy What Katie Did lingerie, whether you come to our boutique to be properly fitted in person, or buying online using our comprehensive guides and personalised service, you`re guaranteed a wonderfully vintage shopping experience.
We guarantee none of our products are produced in `sweatshops`. We only use well-run and properly managed factories.

Most of our lingerie is made in a small dedicated unit in India with whom we have been working since 2002. Katie visits in person, several times a year, for sampling and sourcing.
Languages

Nederlands

English