Route 66
Route 66 Australia was established in Melbourne all the way back in 1983. With a jaw-dropping range of US vintage clothes, western boots, 501s, Raybans and other primo goods, Route 66 was the first dedicated retail outlet of its type in Australia, and quickly became more than just a success. Word of the sexy sales staff, cool vibe and boss tunes in-store spread among hepcats and kittens and a cult was born.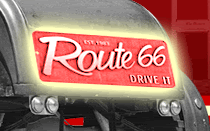 July 2005 will see the release of a deluxe range of clothing and accessories for men and women. First up there's the ring-spun denim jeans (featuring selvage – a pre-70s 'premium jean' fabric style). There will also be stylish 'hombre' denim jackets, super-cool western suits, stove pipe pants, garage shirts, Big Rig jackets, angora knitwear, pencil skirts & classic t-shirts. For anyone who wants to accentuate their own individual style & lifestyle with classic vintage inspired threads, accessories, art, homewear & carwear there was no other choice; take a trip to Route 66.
Slechts een beperkte voorraad dus wees op tijd!
Languages

Nederlands

English