Gift Certificate
Surprise someone with a gift of their choice!
A great gift to give and even better to get.
We can customise it for a special occasion.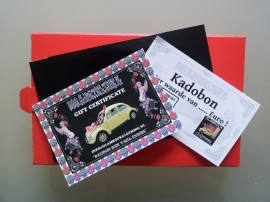 The voucher has a special code which the lucky reciever can use on the website.
Combine it with a small gift in the box and choose your own code to make it personal.
Gift certificate starting from 5 euros.

Gift certificate wrapped in a black envelope and sent in a pretty red box which could fit a small gift like a bandana, buckle or similar.

Minimum value € 5, if you want a value higher than indicated please use the contact page…

€ 5,00
Languages

Nederlands

English